Custom Search
PRESSURE SANDBLASTING CABINET INDUSTRIAL GRADE HIGH PRODUCTION ABRASIVE MEDIA BLASTER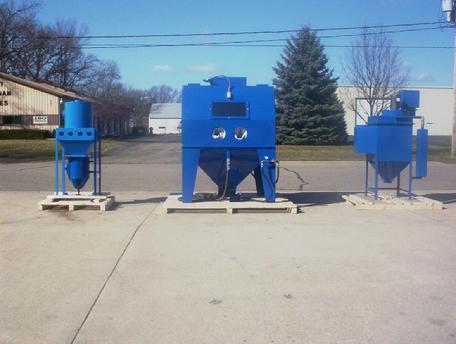 PRESSURE SANDBLASTING CABINET ABRASIVE MEDIA / BEAD BLASTER
Above is picture showing our standard 60 x 48 x 40 cabinet pictured center with the pressure pot with media cleaning reclaimer to the left and our standard 1250 cfm dual cartridge autopulse dust collector as standard equipment.
The above 60" wide, 48" deep, 40" high pressure cabinet, automatic full reclaim w/ pressure pot and standard 1250 cfm dual cartridge autopulse dust collector package is available for the direct purchase price of $11,785.00 U.S. dollars. Additional information is available for the asking at donschmidtke1@yahoo.com
This is our own brand of pressure blasting equipment. Our standard cabinet size is 60 inches wide by 48 inches deep and 40 inches high. It has two doors and high output lighting. We manufacture one of the most productive blasting cabinets in the industry. We only offer pressure pot style cabinet blasters because this type of equipment is up to 5 times faster than a siphon blaster. Siphon style cabinets may be much cheaper to start with but they are not practicle for production blasting applications. They are extremely slow and inefficient compared to a pressure pot blasting cabinet. In the long run the incremental difference in price between a siphon and pressure cabinet are easily recovered within the first year thru increased productivity and substantially lower labor costs.
Our cabinets are constructed completely out of 10 guage (1/8 inch thick) temper pass steel plate and are reinforced with a 1/4" thick angle frame work around door and window opennings. Most manufacturers like Scat blast, Tip, Zero, Trinco, Empire, Pangborn, Econoline, Blast It All and various other foreign cabinets are made using much thinner guage steel or plastic and will not last as long as our heavy duty units. Our cabinet alone weighs in at 1,250 pounds. Do some homework and ask some basic questions before you purchase a tin can from somebody else. We will be happy to provide references from recent customers upon request. Apples to apples you will get more for your money when you purchase your next production pressure blasting cabinet from us. Below is a list of included features:
Two side doors

Hinges are 2" wide 1/8" thick with a solid 3/8 rod

High output florescent U-tube light box

High efficiency water trap

Foot pedal 3/4 inch full port standard

1250 cfm dual cartridge dust collector as standard equipment

2 hp 1 or 3 phase tefc motor as standard equipment

2 hp high efficiency 1 phase 115/230 tefc motor optional

Cyclonic media reclaimer with high efficiency for maximum media recycling and loss prevention

Air wash media separator allows excellent media cleaning and classification of finer media particles

.125" perforated foriegn material cleaning sieve for paint and rust chip removal

150 pound automatic reloading and self-sealing, 60 degree down slope, 1/4 inch thick, pressure vessel

1/4 orifice C1 Series ceramic nozzle and holder

Everything pictured is included in this offering.

We guarantee our workmanship to be free from defect for one full year.

WE OFFER COMPLETE CUSTOMER SERVICE, SUPPORT AND TROUBLE SHOOTING ASSISTANCE. IF YOU HAVE QUESTIONS, COMMENTS OR CONCERNS WE WOULD BE PLEASED TO HEAR FROM YOU.

Consolidated Stripping is not just the manufacturer of one of the best blasting cabinets ever made but we have made our living thru using the same equipment for over 13 years. We have the knowledge and experience necessary to assist you with your specific blasting applications and have a full service laboratory and parts processing ability for any customer that requires an in depth part sampling study.
WHAT IS THE DIFFERENCE BETWEEN A PRESSURE CABINET AND A SIPHON CABINET ?
A PRESSURE POT IS 5 TIMES FASTER THAN A SIPHON GUN GIVEN THE SAME AIR SUPPLY
That is why most siphon style cabinets and free standing siphon guns are all but useless for anything short of touchup work. For production stripping, derusting, and other metal finishing applications a siphon cabinet is too inefficient to be economical. Unfortunately, the cheaper up front investment leads many business into selecting a unit that will cost more in lost productivity then the initial investment within the first year. Because they look similar you could be fooled in to believing that there is basically no difference between a siphon or pressure style cabinet blaster. But the real difference is only revealed when the blasting begins and its all over but the red ink at that point.
The fact is that the most efficient siphon cabinet blaster is 4 times slower than a pressure pot cabinet system given the same air supply. All things being equal, a slightly cheaper siphon cabinet will cost your company thousands more in lost productivity in the event you actually have to use it. A siphon blaster will waste 4 out of every 5 hours because you have invested in an "ax" instead of a "chain saw".
The above offering is for a new 60x48 pressure cabinet with an automatic media reclamation system. It is constructed completely out of 10 guage hot roll steel for ultra durability and is up to three times thicker than the tin some manufacturers are using and referring to as "heavy guage" without any specifics. Do some homework and you will find that we are building one of the thickest cabinets out there. The cabinet alone uses over 1200 pounds of hot roll steel plate and 1/4 thick angle decking and reinforcement around doors, top and front for extended life and durability. You will not find a better, stronger built cabinet than this model.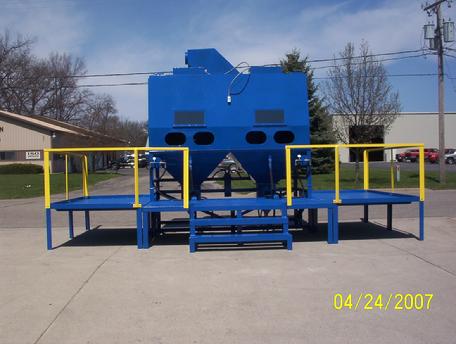 NEW 10X5X5 DUAL MAN INDUSTRIAL PRESSURE BLASTING CABINET